2020 Senior Living Trends
Jan 3, 2020
A Community of Individuals: 2020 Senior Living Trends Baby boomers are set to become some of the most educated, savvy and individualistic seniors the industry has seen.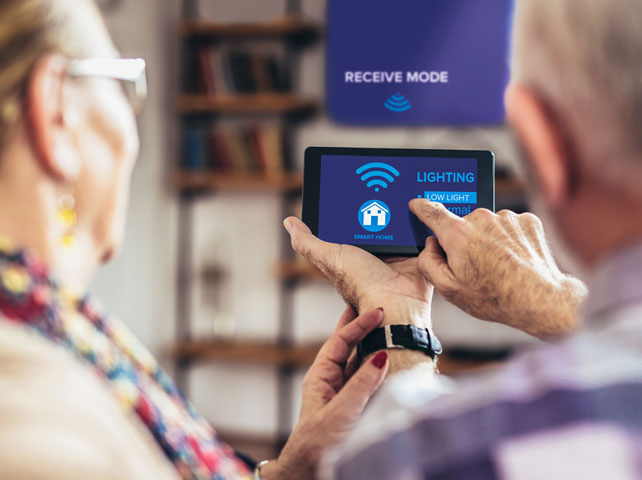 A Community of Individuals: 2020 Senior Living Trends
Baby boomers are set to become some of the most educated, savvy and individualistic seniors the industry has seen. 2020 will see a popularity spike for products, services and even community locations that enable older adults to retain more control over their surroundings and daily activities. Technology will focus on preventing and monitoring health conditions in an attempt to avoid independence-impacting crises. And living spaces will be chosen and designed to create flexibility and facilitate choice.
Autonomy
This is the overarching watchword for senior living in the coming years. Today's seniors want to retain as much independence and self-direction as they can. Older adults know what they like and how they want to live. They do not want to be dictated to. They will likely have extensively researched their senior living options and come in with informed ideas of the kind of experience they want.
This year's senior living trends will be focused around providing options and flexibility to accommodate modern seniors who want to design a more individualized lifestyle.
Smart Technology
Technological innovation is driving many of the 2020 senior living trends. Older adults can remain healthier, better connected, safer and more informed through new smart devices.
Smart Home Technology: Voice-activated devices prove exceptionally helpful for people living with mobility challenges. Some models can control the thermostat or lock doors. Voice activation also significantly cuts down on the amount of time and level of memory users have to invest to learn to use their new device.With only their voice, older adults can have information at their fingertips, and they can easily connect with loved ones. In an emergency, they can also call for help through a smart speaker. Some devices have smart sensors that can detect falls, and others offer smart plugs that can turn off appliances (like stoves) after a set amount of time.
Smartwatches: More than just tracking steps, today's smartwatches can monitor blood pressure, heart rate, glucose and oxygen levels. Some offer scheduled reminders, which is great for those who need to take medications at the same time each day. Many also offer SOS call functions.Additionally, for seniors with dementia, some smartwatches offer GPS trackers and specified safe zone alarms to keep wearers from getting lost. Like smart home devices, new Apple Watches even come equipped with fall detectors and will send an SOS call if the user is not responsive.
Telehealth: Telehealth creates several options for connecting with doctors virtually. Patients can speak face-to-face with a physician from the comfort of their residence, and therefore can more easily include caregivers if they choose. Health-related data collected by smartwatches can be shared directly with doctors through web portals, allowing them more insight into everyday patterns in their patients' chronic conditions.
As older adults integrate technology more into their everyday lives, there will be more data collected about their habits, their preferences, and of course, their health. This understanding will enable senior living providers, families and health care professionals to respond more intelligently to seniors' needs.
Community Connection
Recently, older adults have shown a growing preference for living in urban centers. Like younger generations, seniors do not want to be far from conveniences and culture. Baby boomers want to remain connected to the larger community, so in 2020 we will see established retirement communities making greater effort to facilitate transportation, and new communities being built close to urban centers.
Flexible, Open-Concept Spaces
As seniors' demand for autonomy increases, communal spaces must become as flexible as they are. Instead of having spaces dedicated to one activity, like movie theaters or card rooms, senior living communities are creating adaptable spaces that can easily accommodate a variety of activities. With thoughtful design, movie nights, continuing education classes, religious services and choir practice can all take place in the same room.
Modern seniors are redefining what it means to grow older. They are not looking to become a burden to those around them. They want to command their days and remain in control for as long as they can. Senior living trends reflect older adults' need for independence. Everything from the technology in their homes to the design of communal spaces creates opportunities for choice and freedom. Use our Find a Community Tool to find out how LCS communities in your area are adapting to senior living trends.
Subscribe to Senior Living Communities Insights