Debunking Senior Living Myths
Feb 18, 2020
There are a lot of myths out there about senior living communities. And if your only experience with a community was from several decades ago, some myths may seem easy to believe.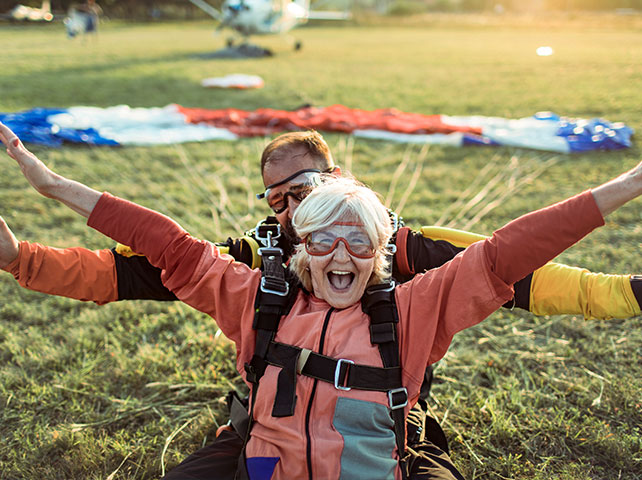 There are a lot of myths out there about senior living communities. And if your only experience with a community was from several decades ago, some myths may seem easy to believe. The truth is, society has changed its ideas about aging, and senior living communities have changed right along with it.
This post will dispel common senior living myths and give you a better idea of the reality: seniors choose to move to a community to enhance their lifestyle and give themselves more freedom to do what they want to do. Here are some retirement myths and the truth.
Myth: We're Too Young to Move to a Senior Living Community.
Truth: One of the most common retirement myths has to do with the belief that there's a "right age" to move. The reality is that you should move to a community when you're active and ready for more independence. Why be bogged down with home maintenance, lawn care, cooking, housekeeping, and all your other household chores? A maintenance-free lifestyle gives you the freedom to do more of what you love to do. Today's senior living communities are specially designed for active older adults who want a full and engaging life.
Myth: I Shouldn't Move Until I Need Help Taking Care of Myself.
Truth: Moving while you're still healthy allows you to stay in control of your choices. If you wait until an illness or health crisis occurs, you or your family may be forced to pick a community based on availability, not desirability. Plus, many independent living communities also have higher levels of care — assisted living, memory care, skilled nursing and rehab — that you can take advantage of without the worry of moving again.
Myth: Senior Living Is Expensive.
Truth: The cost of senior living depends on the size of the residence you choose and the number of people who live in it. The cost of senior living is often comparable to or less than receiving the same services and support at home. Even if you've paid off your mortgage, homeownership can still be costly. Consider insurance, taxes, upkeep and repairs, utilities, gym memberships, dining, activities and emergency expenses. At a senior living community, everything is included in one rate — not to mention the convenience of having entertainment, social events, dining, housekeeping services and, if ever needed, higher levels of care.
Myth: I'll Lose My Independence And Have To Be On Someone Else'S Schedule.
Truth: Most communities offer outings, activities, socializing, fitness, art classes and flexible dining options. Participation is up to you. If you want to spend your retirement traveling, you can explore the world, knowing your residence will be looked after while you're away.
Myth: I'll Have To Give Up My Hobbies.
Truth: Without the time-consuming tasks of home upkeep, you'll have more time to spend on the things you love to do. You could also find other residents who share the same interests you do and start a club. Plus, you'll have the chance to try new things and discover new hobbies.
Myth: They Won't Have Any Activities I Like.
Truth: Senior living communities continue to change to reflect the needs and wants of residents. While earlier generations may have thought of retirement as a time to rest and relax, today's Baby Boomers are different. Many communities have adapted and now offer a more active lifestyle focused on wellness. Today residents enjoy indoor saltwater pools, fitness rooms filled with state-of-the-art equipment, as well as fitness trainers and yoga and Tai Chi classes.
Myth: Senior Living Communities Feel Institutionalized.
Truth: Your last experience at a senior living community decades ago may have included long, white hallways and bright fluorescent lighting that seemed more like a hospital. Today's senior communities are homelike, comfortable, and more closely resemble a resort. Some senior living communities even offer spectacular views of the city, water or other points of interest.
Myth: Seniors Are Lonely In Retirement Communities.
Truth: Loneliness is a risk of aging and making friends can be difficult. If you have groups of friends you socialize with, you can still see them. Just because your address changes doesn't mean your social life has to! Many retirees choose to move to a senior living community because they want a rich social life. Living in a retirement community provides endless opportunities to develop close social connections and friendships, which is crucial as we age. At senior living communities, residents make friends, share meals, go on trips, and enjoy special occasions together.
Myth: Meals Are Plain And Unappetizing.
Truth: Like a lot of nursing home myths, this one is based on an old stereotype that's no longer true. Not only is taste important when providing meals for seniors, but nutrition is key. Senior living communities offer an ever-changing menu of nutritional meals to give you options that fit your lifestyle and dietary needs.
Ready to Bust Some Myths?
Life Care Services® owns and operates a variety of senior living communities all over the country. If you're ready to dispel common senior living myths for yourself, use our community locator tool and discover the truth about today's senior living communities.
Subscribe to Senior Living Communities Insights