Exercise for Seniors: Why It's Important and How to Make it Fun
Oct 29, 2021
There is a common misconception that exercise and "working out" is only for body builders, endurance athletes, and those who are at the pinnacle of physical fitness.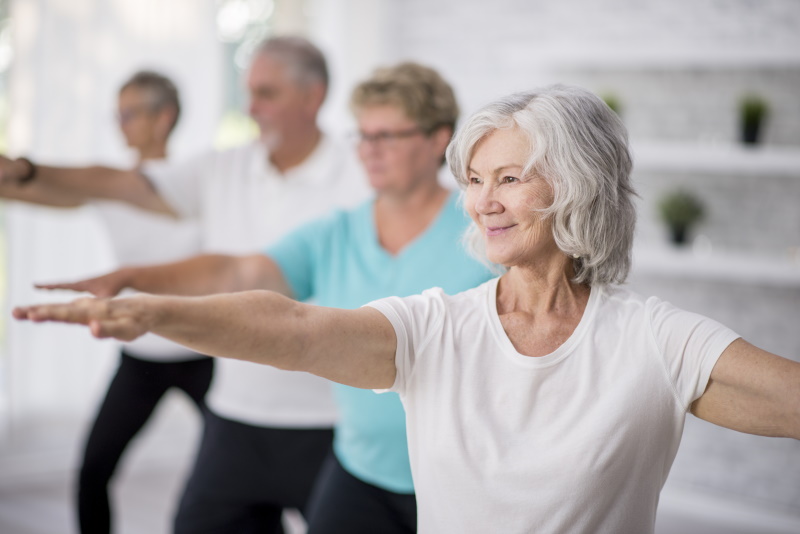 There is a common misconception that exercise and "working out" is only for body builders, endurance athletes, and those who are at the pinnacle of physical fitness. Exercise is for everyone, including seniors. In fact, senior workout routines can be essential for health. Research from the Centers for Disease Control and Prevention (CDC) indicates that "the loss of strength and stamina attributed to aging is in part caused by reduced physical activity." They also indicate that inactivity increases with age.
Exercise for seniors is clearly important for physical health, but it also a great way to improve mental wellness through fun activities. Still, questions remain such as "how much exercise do seniors need?" "what does an exercise program for seniors consist of?" and "what are a few senior fitness workouts that participants can enjoy?"
Life Care Services® has put together a list of some of the most popular exercises for seniors, details on how exercise can benefit your health, and workouts or routines that offer something fun for everyone.
5 Popular Types of Exercises for Seniors
When it comes to senior fitness workouts, there is an emphasis on activity that is low impact. It's best for seniors to take part in a couple of these exercise types, three to four times per week, for at least 30 minutes.
Each of these types of exercises are beneficial to helping seniors improve balance, build strength, develop core stability, increase mobility, and more.
1. Swimming/Water Aerobics
Swimming pools allow us to float and give relief when completing any type of strenuous activity. Many seniors may struggle with arthritis or have soreness around bones and joints. Swimming or enjoying water aerobics lowers the impact on our bodies while exercising, and also helps reduce the threat of falls. There are many types of water aerobics for seniors to enjoy like water walking, leg swings, flutter kicks, arm circles, and other exercises that increase cardiovascular movement and are enjoyable to do with a group.
2. Walking
Walking for seniors is beneficial for reducing pain and strengthening muscles, while also improving brain health. It is a great time to talk with friends, enjoy the great outdoors, and breathe in fresh air. Take a quick stroll to feel rejuvenated and to laugh with friends.
3. Yoga/Chair Yoga
Some people may be concerned that yoga is too intensive for their bodies. However, modern yoga has a variety of exercises and stretches that are easy on joints while still leveraging weight to achieve an effective workout. Chair yoga has become increasingly popular for seniors who enjoy modified versions of traditional stretches and poses.
4. Strength Training
Bench pressing or deadlifting heavy weights is not all that makes up strength training. For seniors, these exercises can be dangerous. There are plenty of strength training exercises older adults can enjoy, particularly with lighter dumbbells. Many seniors receive health benefits and maintain their weight by curling, pressing, raising, and extending 2,5, or 7.5-pound dumbbells.
5. Cycling
While this type of exercise may not be right for every person, cycling has become a very popular workout for seniors. The exercise is low impact, great for your heart, and allows you to enjoy a ride with friends on the trail.
Fun Exercise Ideas
Exercise doesn't have to be exhausting. There are plenty of ways to be active and to have fun in the process:
Play with your grandchildren – Enjoy the swings together, throw a football or baseball, and take a walk to the grocery store.
Gardening – Many seniors enjoy time well spent at the community garden. Not only will you complete some physical activity, but you can grow your own fresh herbs and vegetables or beautiful flowers!
Dancing – What could be more fun than moving to your favorite music? Older adults can laugh, sing, and of course, dance the night away as a fun exercise. Explore swing, salsa, ballroom, or even hip hop dances!
Join a club – There are so many physically active clubs available. While every community is different, there are a variety of club options that support fitness while ensuring everyone has a good time.
Enjoy Fun and Effective Exercise Programming at Your Life Care Services Community
Life Care Services provides a wide variety of exercise amenities for the residents of our more than 140 communities. We make it our mission to focus on you and your experience, from providing enjoyable exercise classes to comfortable residences for all.
Seeking a wonderful, energetic community near you? No matter where you are, we're right where you want to be. Find your community, today!


Subscribe to Senior Living Communities Insights