Finding Your Fit: The Different Types of Senior Living Communities
Jul 24, 2023
Embarking on your next chapter of life requires careful consideration and planning, especially when it comes to finding the ideal senior living community. Whether you're seeking an active, independent lifestyle, require some assistance, or need specialized care, this guide describes the unique features, services, and benefits offered by each community option. This blog will equip you with the knowledge and understanding necessary to make an informed decision about the type of community that is best for you.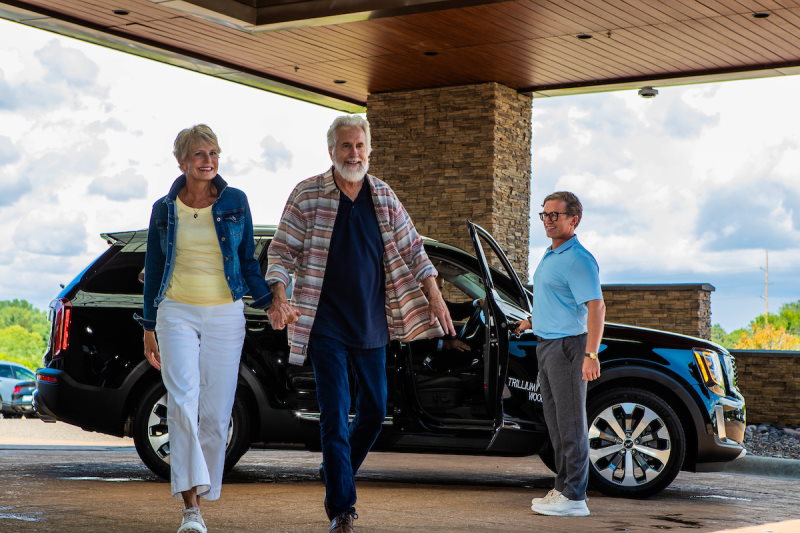 Independent Living
Definition: Independent living communities are designed for active seniors who live independently but prefer a maintenance-free lifestyle. These communities are attractive to older adults because they alleviate burdensome tasks like home and lawn maintenance, snow removal, hurricane preparation, and small daily tasks like cooking and cleaning. Independent living residences may be apartments or single-family homes.
Benefits and amenities: These communities offer a range of amenities like recreational activities, fitness centers, fine and casual dining options, and transportation services. One of the greatest benefits of independent living is the opportunity to connect with others in a similar stage of life. Independent living communities offer a range of social events and committees to help build relationships among residents. The social offerings at these communities also encourage residents to continue the activities they enjoyed before moving, like gardening, playing cards, creating art, or playing music.
Target audience and lifestyle considerations: Independent living communities are suitable for older adults who are relatively healthy, active, and desire a vibrant social life and a supportive environment.
Community highlight: At Life Care Services, many communities offer independent living options for seniors, while also providing a continuum of care available to residents as needs may change. For example, The Heritage of Brentwood offers independent living for residents, while also serving as a Life Plan community. Their independent living program alleviates the responsibilities of homeownership and the stress of health care planning so that residents are free to live life the way they want. Maybe that looks like working with The Heritage's NIFS-certified trainers on a personalized fitness program. Or perhaps it looks like joining one of 90 resident-driven clubs. A sought-after community in the area, The Heritage at Brentwood is a prime example of how independent living can elevate and enrich residents' lives.

Assisted Living
Definition: Assisted living communities help older adults with daily activities like medication management, transportation, housekeeping, and self-care tasks like bathing and dressing. Like independent living communities, assisted living communities offer a range of housing options like condos and apartments. While being highly focused on the physical wellbeing of residents, these communities also place significant emphasis on seniors' mental and emotional health. Assisted living communities arrange frequent social activities, outings, and events to promote residents' holistic wellness.
Assisted living communities differ from independent living by providing daily care and support for residents.
Benefits and amenities: These communities offer 24/7 caregiving services, personalized care plans, meal preparation, transportation, and social activities to enhance resident quality of life.
Target audience and lifestyle considerations: Assisted living communities are a great choice for older adults who require some level of assistance with daily activities but still desire a certain degree of independence. If you find yourself struggling to complete day-to-day tasks and desiring more social engagement, an assisted living community may be right for you.
Community highlight: Clarendale of Addison is a Life Care Services community in Addison, Illinois, offering assisted living, independent living, and memory care options. Their caring staff assist residents with daily living activities, provide round-the-clock caregiving, plan fun and purposeful daily activities, and facilitate regular outings to local hotspots. In addition to extensive care offerings, Clarendale of Addison boasts amenities like a full-service hair salon and spa, well-appointed residences, and restaurant-style dining. Communities like Clarendale of Addison help support the evolving care needs of aging adults without compromising top-tier amenities and social engagement opportunities.

Memory Care
Definition: Memory care communities specialize in providing a secure and supportive environment for individuals with memory-related conditions such as Alzheimer's or dementia. These communities promote the wellbeing of residents by providing structured routines and programming, personalized care plans, specially designed living spaces, and individualized dining and nutrition.
Benefits and amenities: Memory Care communities prioritize the safety, security, and wellbeing of residents with secure entrances, alarmed doors, and staff members trained to prevent residents from feeling disoriented. Memory care communities also provide unique programming designed to stimulate cognition and memory retention, like puzzles, reminiscence therapy, and thoughtfully engaged discussions.
Target audience and lifestyle considerations: Memory care communities are specifically designed to meet the unique needs of individuals with memory impairment. If you or a loved one are dealing with memory impairment and could benefit from a supportive environment and individualized care, a memory care community may be the right option. It is also important to note that memory care communities often exist within assisted or independent living communities, allowing spouses to live with or in close proximity to their loved ones in memory care.
Community highlight: The Village at White River Junction, a Life Care Services community in White River Junction, Vermont, is an assisted living and memory care community with a secure, dedicated memory care floor. Memory care residents at The Village live in studio apartments and can enjoy dedicated activity spaces and a private garden. Memory care team members at The Village are trained in the LCS Heartfelt Connections memory care program, focusing on each resident's individual life story and capabilities. Every resident receives an individualized program that promotes self-worth and self-esteem. Memory care communities like The Village at White River Junction offer the opportunity for adults with impaired memory to live in an environment that prioritizes their safety and wellbeing.

Skilled Nursing and Rehabilitation
Definition: Skilled nursing communities provide 24-hour medical care and supervision for individuals with complex medical needs or those requiring rehabilitation services, all from the comfort of a home-like environment. Similar to the other community types, skilled nursing communities also employ a holistic approach to wellness, offering a range of social, recreational, and cultural activities to ensure that the community feels safe and supportive. A key feature of many skilled nursing communities is their flexibility in providing either short or long-term care. Like memory care, skilled nursing is often "built in" to independent and/or assisted living communities, meaning residents can transition between different levels of care.
Benefits and amenities: Like memory care communities, the individualized care provided by skilled nursing and rehabilitation communities is a major advantage. These communities can provide medication management, wound care, rehabilitation services, and specialized therapies depending on the needs of the resident. Skilled nursing communities also provide personalized dietary support to ensure the proper nutrition of residents.
Target audience and lifestyle considerations: Skilled nursing communities are a good fit for individuals with complex medical needs, chronic illnesses, or those who require extensive assistance with the activities of daily living.
Community highlight: Pomperaug Woods in Southbury, Connecticut, is a Life Care Services community with care options ranging from independent living to memory care, skilled nursing, and rehabilitation. The skilled nursing center at Pomperaug Woods provides residents with private or semiprivate suites, a full-service dining room, round-the-clock licensed nursing care, rehabilitative therapies, and daily socialization activities. Pomperaug Woods also offers residents a warm and homey atmosphere featuring common rooms and landscaped gardens. Skilled nursing communities like Pomperaug Woods offer an ideal location for older adults recovering from illness or injury, or those requiring long-term care.
Life Plan/Continuing Care Retirement Communities (CCRCs)
Definition: Life Plan communities, also known as Continuing Care Retirement Communities (CCRCs), offer a continuum of care within a single community, allowing residents to transition between independent living, assisted living, memory care, and skilled nursing care as their needs change. Life plan communities offer all the benefits of the previously described community types, allowing residents to live independently for as long as possible, while also providing access to various levels of care within the community they know and love.
Target audience and lifestyle considerations: These communities are most valuable in the peace of mind they provide residents, who know that different levels of care are accessible within their community whenever necessary. If easy access to a continuum of care is important to you, a Life Plan may be your best fit.
Community highlight: Monarch Landing in Naperville, Illinois, is a Life Care Services community offering memory care, skilled nursing, rehabilitation, and respite care, all in addition to a vibrant independent living community. Residents at Monarch Landing can enjoy a worry-free lifestyle, knowing that quality care across the senior living continuum exists within their community. In addition to comprehensive care offerings, Monarch Landing boasts a dog park, indoor heated pool and spa, full-service salon, and multiple dining options.

Active Adult Communities
Definition: Active adult communities cater to individuals aged 55 and older who are looking for an independent and active lifestyle in a community of peers. Active adult communities could be either age-restricted (requiring that 80% of residences have one person over the age of 55) or age-targeted (marketed to the 55+ age bracket). These communities may consist of single-family homes, townhouses, apartments, or condos.
Benefits and amenities: Active adult communities are attractive because of their low maintenance requirements relative to owning a home. In active adult communities, landscaping and other outdoor upkeep is not a concern. These communities often also include (or are near) amenities like fitness centers, swimming pools, and tennis courts. Perhaps the biggest benefit to living in an active adult community is being surrounded by peers at a similar life stage.
Target audience and lifestyle considerations: Active adult communities are ideal for older adults looking for a low-maintenance housing option that affords them a high level of independence and the opportunity to socialize with their age-group peers. On the other hand, it is important to understand that active adult communities do not offer the same peace of mind as communities with a full continuum of care.


A community that is "just right"
Whether you value an active and independent lifestyle, require personalized care, or seek specialized memory support, there is a community tailored to your unique desires. Being well-informed about these different types of communities is the first step in finding the perfect new home for you and your loved ones. With this knowledge, you can confidently explore and select the senior living community that best suits your lifestyle and preferences.


Life Care Services communities stand out
Compassionate staff, premium health and wellness offerings, top of the line security, and innovative memory care are among the cornerstones of the Life Care Services experience. A community that meets these standards is just a click away. Find an LCS community here.
This blog was written with the assistance of ChatGPT.
OpenAI. (2023). ChatGPT (June 22 version) [Large language model]. https://chat.openai.com.
Subscribe to Senior Living Communities Insights