How to Talk to Your Loved One About Senior Living
Jul 24, 2023
Asking a loved one to consider a senior living community can be a difficult conversation, even when it is the best choice for their safety and wellbeing. However, with a kind and empathetic approach, this difficult conversation can result in a better future for your loved one. By coming from a place of understanding, you can help the older adult in your life view a senior living community as the beginning of an exciting new chapter.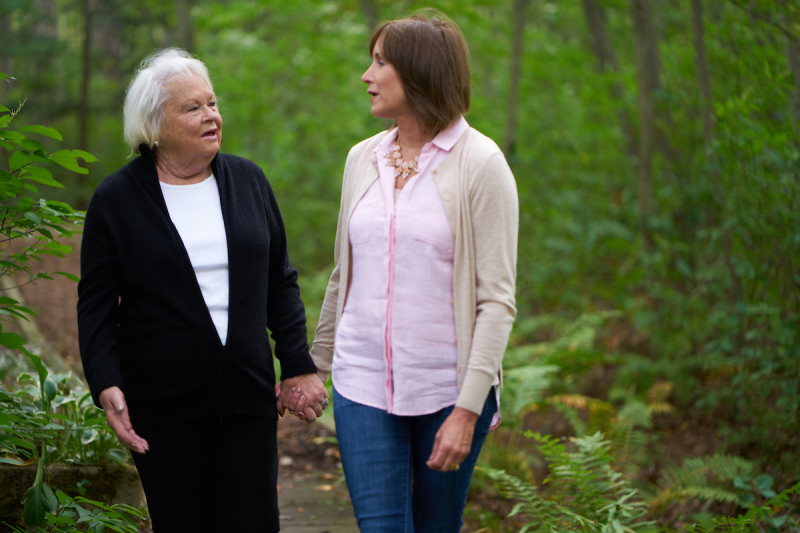 It isn't easy to acknowledge you need a little extra help. This is especially true as we age. We spend decades making a home, living independently, and settling into a familiar routine. For this reason, and many others, it can be difficult for older adults to realize it might be time to consider moving to a senior living community.
In approaching a conversation about senior living, it is important to first understand the fear and apprehension that your loved one may be feeling. And beyond simply understanding, it is essential to treat your loved one as a trusted and respected voice in the decision-making process. In this blog, we will provide tips for having effective and empathetic conversations about senior living.
Consider involving a third party
Many friends and family members of older adults find that involving a third party in the conversation about senior living is an effective way to build trust and credibility. As a loved one, you naturally have a vested interest in the health and wellness of the older adult in your life. Allowing a trusted, impartial individual to provide an unbiased evaluation of the current living situation and educate on the benefits of making a move, can shed new light on the topic and remove possible stigmas associated with senior living.
Often, this third-party perspective comes from a trusted advisor like a financial advisor, a trusted pastor or rabbi, or a physician, especially a geriatric physician. A geriatric physician has a complex understanding of your loved one's health status but is also in a position to provide an objective evaluation. Broaching the topic of a senior living community in the presence of a geriatric physician or primary care provider can contribute credibility and perspective to the topic of senior living. That way, you can focus on supporting the emotional needs of your loved one during this lifestyle transition.
Enter with empathy
While an empathetic mindset may seem like an obvious must in discussing senior living, it can be easy to grow frustrated during this difficult conversation. In these trying moments, it is essential to remember that your loved one has probably lived independently for over 50 years, and that the prospect of relinquishing control of their lives to an outside party is likely very overwhelming. During a conversation about senior living, it is crucial to put yourself in your loved one's shoes. In doing so, you'll gain a better understanding of how they receive what you're telling them so you can adapt your approach accordingly.
Maintain respect
As you discuss your concerns about the safety and wellbeing of your loved one, it is highly important to not talk down to or infantilize them. In old age, it is normal for seniors to experience a decline in their physical or mental health. However, in discussing these moments with your loved one, it is important to speak to them with dignity and respect. This will build trust with your loved one and ensure that they do not feel they need to be on the defense.
Let them know you'll still be there
A common concern expressed by seniors about moving into a community is that they will be abandoned by friends and family. It is vital to help them understand they will be moving to a vibrant community filled with people and experiences, along with new ways to stay connected and include their current social circle. Emphasize all of the ways that you and your loved one will be able to spend quality time together in a community. For example, discuss how certain activities you enjoy doing together may be easier with the support of community staff and convenient amenities, like gardening, playing cards, or exercising. And make sure to involve their broader circle of friends and family by talking about how holidays or other social events could be hosted at the new community. This will let your loved one know that a move to a community does not mean a move away from the people closest to them.
Highlight the benefits of senior living
When older adults hear "senior living," what comes to mind is often a cold, sterile, unfriendly environment. In reality, senior living communities today are bright and welcoming places, dedicated to giving seniors the freedom and support to live their lives to the fullest. Stressing how senior living communities can help your loved ones enjoy activities that have been made difficult for them is a great way to make communities more appealing.
Understand that this will be an ongoing conversation
Chances are, your loved one won't be convinced of their need for a senior living community after just one conversation. Naturally, the older adult in your life needs time to process and understand what moving to a community really means. Maybe they will want to consult other seniors in their life about their experience with senior living communities or conduct independent research. Giving your loved one the space and time to come to a decision about senior living on their own is the best way to ensure they are happy and excited about the transition.
Involve your loved one in the search for a community
As you begin searching for a senior living community that suits your loved one, be sure they are driving the decision-making process – after all, they are the ones who will be living in the community and interacting with the staff and residents.
If your loved one is still apprehensive about senior living, researching and touring communities can be a great way to get them excited about the transition. Sometimes seeing the community amenities, well-appointed apartments and townhomes, and friendly faces can be the final push your loved one needs to be confident about their decision.
Talking to your loved one can be difficult; finding a safe and supportive community shouldn't be
After you and your loved one have decided senior living is the best option, finding the right community doesn't need to be stressful. When you choose from 130+ Life Care Services communities across the United States, you can feel confident knowing that the senior in your life will receive the highest caliber of care and service. This is because every Life Care Services community offers signature experiences to help residents remain safe, healthy, and inspired in their new home. Click here to learn about the experiences that set LCS apart and visit our Find a Community page to locate a Life Care Services community near you.
Subscribe to Senior Living Communities Insights