The Importance of Intergenerational Activities in Seniors
Jun 15, 2020
There was a time when the young and the old naturally co-existed. It wasn't unusual for multiple generations to live together in the same household or neighborhood, or just a short drive away.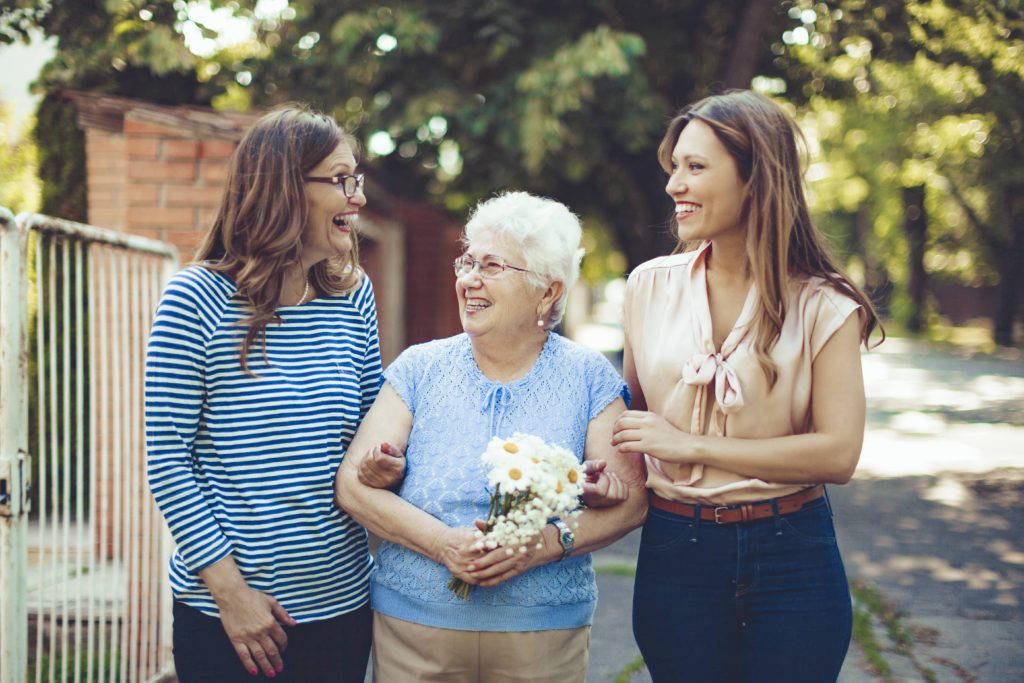 There was a time when the young and the old naturally co-existed. It wasn't unusual for multiple generations to live together in the same household or neighborhood, or just a short drive away. They cared for one another and shared in responsibilities, activities and the joys and sorrows of everyday life.
Today, many families are fragmented, often living hours or thousands of miles apart. Though family relationships last a lifetime, separation can cause them to suffer through a loss of comfort, tradition, learning, history, purpose and belonging. And for older adults, especially those still living at home, the loss of intergenerational activities for seniors can lead to isolation and loneliness, and that can lead to even serious health risks.
Studies suggest that isolation and loneliness can cause early physical and cognitive decline, including high blood pressure, obesity, heart disease, a weakened immune system, depression, and even early death.
The Benefits of Intergenerational Activities.
Many seniors across the country are experiencing the numerous health benefits of intergenerational activities and programs by participating in programs offered in their area. Senior living communities, in particular, can be a great resource for such opportunities because they understand the health and happiness they bring to both their residents and the youth.
A study by Generations United, a non-profit dedicated to improving the lives through intergenerational collaboration, emphasizes the importance of such programming:
"…participation in intergenerational programs and meaningful cross-age relationships may decrease social isolation and increase older adults' sense of belonging, self-esteem, and well-being, while also improving social and emotional skills of children and youth participants."
The report further suggests that:
Older adults who regularly volunteer with children burn 20% more calories per week, experienced fewer falls, were less reliant on canes, and performed better on memory tests than their peers.
Older adults with dementia and other cognitive impairments experience more positive effects during interactions with children than they did during non-generational activities.
Older adults learn new technologies from their younger counterparts.
In schools where older adults regularly volunteered, children had better reading scores compared to their peers at other schools.
Youth who interact with older adults develop communication skills, problem-solving abilities, positive attitudes toward aging, a sense of purpose and community service.
Youth involved in intergenerational mentoring programs are 46% less likely to begin using illegal drugs, 27% less likely to begin using alcohol, and 52% less likely to skip school.
A report from Stanford University points out that older adults benefit from experiencing emotional satisfaction in relationships with young people. As Laura Carstensen, a Stanford psychology professor stated, "Older adults are exceptionally suited to meet these needs in part because they welcome meaningful, productive activity and engagement. They seek – and need – purpose in their lives."
Intergenerational Activities and Programs at Senior Living Communities
Many senior living communities bring older adults and youth together by integrating a range of intergenerational activities into their overall wellness programming. Many have long-standing partnerships with local schools and universities, and community organizations like YMCA, Boys and Girls Clubs, faith-based institutions, 4-H, or cultural centers. This way, seniors and kids can connect as they always have, by learning, playing, talking, and laughing together. Here are some of the types of intergenerational activities and programs that may be offered:
Reading and Mentoring: On-campus or off-campus, seniors volunteer for reading programs with younger kids or to mentor teens in a group setting or one-on-one. They may help with homework, review materials, and discuss life experiences and history.
Day Care Partnerships: Community residents may volunteer regularly at a local day care center to engage with preschoolers in a variety of planned hands-on activities and informal social interactions.
Music Classes or Performances: Whether it's a high school show choir coming into perform or residents traveling to an elementary school to share in a music class, music connects people of any age and gives youth and seniors a chance to learn a new skill and perform together.
Gardening: Many communities offer community gardens where generations can come together in nature to share in the experience the excitement of growing and caring for flowers, vegetables, plants, and herbs. It's a relaxing setting where seniors can pass on their wisdom while connecting with and learning from our kids.
Cooking Together: Whether it's in a resident's or a community kitchen, connecting over a secret recipe or mixing cookie batter, cooking is a joyful time where children can learn new skills, while seniors will enjoy sharing their expertise and learning some new tricks and tips too. It's also a great opportunity to just talk and relate.
Arts and Crafts: Working alongside one another while expressing their creativity gives seniors and kids alike the chance to learn from one another and form genuine friendships.
Family Dinners and Cookouts: Picnics, parties, cookouts and dinners are very popular at senior living communities and often occur monthly. They bring together lots of people of all ages to mingle, make new friends and share in beneficial experiences.
Staying connected, socializing, and having the opportunity to form fun and meaningful relationships is one of the secrets to enjoying a long, healthy and happy life. That's why it's so important to bring together our generations, the young and the old, the wise and the new.
Life Care Services® owns and operates senior living communities all across the country. At each, we understand the important benefits of intergenerational activities for seniors and provide a vast array of intergenerational activities, programs and life experiences for all. And that's something we'll never outgrow. To find an LCS community near you, use our location tool.
Subscribe to Senior Living Communities Insights