Tips for Protecting Your Finances as a Senior
Jan 28, 2022
Life Care Services knows that seniors can be vulnerable to scams, but we are here to put the power back into your hands. By following these tips, you can ensure that your finances will be locked up tight for years to come.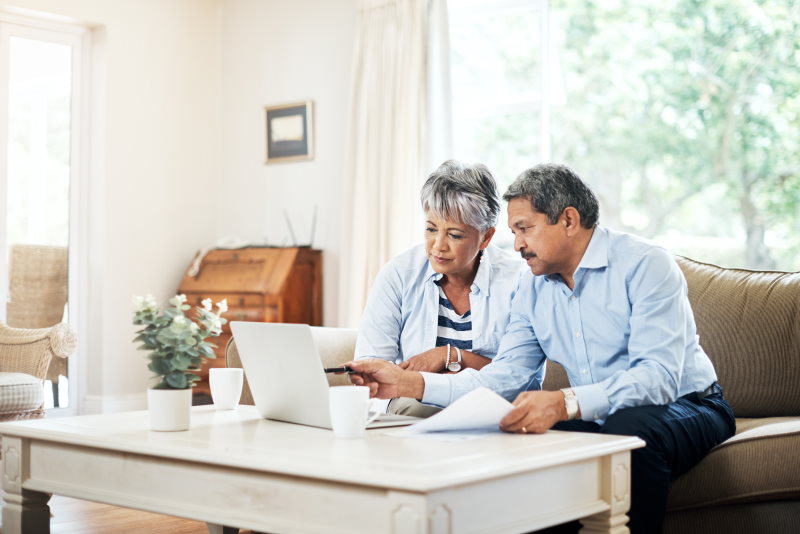 Seniors, on average, are more likely to be taken advantage of financially by scammers and fraudsters to the point that, according to Consumer Affairs, more than 3.5 million seniors are victims of financial exploitation every year. Of course, staying vigilant and being cautious about lending your money are both important aspects of protecting your finances, but there is more to keeping your finances safe.
Life Care Services knows that seniors can be vulnerable to scams, but we are here to put the power back into your hands. By following these tips, you can ensure that your finances will be locked up tight for years to come.
Decide Whether You Could Benefit from Expert Financial Help

Hiring a financial advisor can take off the strain of budgeting and deciding where you should be investing your money. An advisor works with you to decide on a budget you're comfortable with and determine how quickly you should be pulling from your savings, to make sure you will live comfortably throughout your senior years.

Before you decide to hand over your trust to a financial advisor, though, do a deep dive into their background, their credentials, and specifically what qualifies them to advise seniors. Everyone has a different kind of budget, and you want to ensure you're placing yours in the right hands.

Develop a Retirement Spending Plan

Whether or not you decide to get assistance from a financial advisor, it is important to have a plan for your money and take caution with your expenses in retirement. Start looking into new ways to cut back on costs, like informing your car insurance provider that you no longer have to drive your car to work.

By talking to a financial advisor, or a representative at your financial institution, you can begin to put together a yearly or monthly budget to ensure you have sufficient funds to last throughout your retirement. You can also begin putting aside a percentage of your income into savings to prepare for future withdrawals, such as holiday gifts, to avoid going over budget if you have an especially costly month.

Consider Reducing Mail and Phone Calls from Marketers

The Federal Trade Commission reports that phone scams and phishing scams are some of the most prevalent among every demographic, but seniors typically lose more money when they do fall victim to these schemes. Consider adding your phone number to the Do Not Call Registry (call 1-888-382-1222 or visit www.donotcall.gov) to alert sales callers that you're not interested. If the calls persist, that most likely means it is a scammer and you should avoid engaging with them. Your best option will be to block them if you can.

Phishing scams don't engage sales tactics to get your money, rather they will try to pose as a company you recognize or trust and tell a story that will get you to click on a link or attachment. Once you click on that link, they can download harmful software that may allow them to access sensitive information and get into your accounts. There are a few common stories phishers will use to trick you, such as that they've noticed suspicious log-in activity, claim there is a problem with an account, or want you to click on a link to make a payment or similar claims. If you suspect an email or text you received is phishing, always reach out to confirm whether the email is genuine with the real company before you respond or click on any links. The best way to establish the email's credibility is to call or email the company's customer service to confirm if they have any record of contacting you. The company will also be able to explain how to identify an authentic email from them, compared to a scammer.

Look into Discounts and Other Deals

Once you hit a certain age, some financial institutions begin to offer deals on the cost of bank products or services, such as no monthly maintenance fees, no overdraft fees, or free checks. Before immediately accepting the deal your current bank offers you, be sure to do some research into the deals your other local banks may be willing to offer you.

Comparison shopping is the key to getting the best deal. Banks may be willing to negotiate on fees and other account terms, so take notes when you research other offers. By asking questions and showing your bank what is being offered by their competitors, you might be able to score a better deal than what they've advertised.

Consider Turning a Hobby into a Part-Time Job

If you want to supplement your income in retirement, or a more lucrative way to fill up the hours in a day, a great place to turn for inspiration is your hobbies. Taking your passion for knitting, embroidery, or even woodworking, and accepting commissions for money is one way you can continue doing what you love while sharing it with other people.

Other options for supplemental income can come from working a seasonal job or freelance consulting in your previous field. One thing you should consider before following through with a part-time job is how the extra money could influence your finances that are tied to your income. An increase in funds could potentially raise Medicare costs or temporarily reduce your Social Security benefits, and end up draining your finances more than they're boosting them.

Organize and Protect Important Documents
As you age, it's easy to lose track of important documents. Things get misplaced during a move to downsize, or lost in a tide of clutter the longer you live in a home. It's best to have all of those documents in one place in the case of an emergency, make sure you collect all of your important documents, bank and brokerage statements, insurance policies, Social Security and company pension records, and any other personal and financial papers you or your family may need on short notice.
A safe deposit box is your best option for storing documents or valuables you won't need to access frequently, but are difficult or impossible to replace. Documents like original copies of birth certificates, property deeds, and car titles are good candidates for a safety deposit box, but documents like wills or power of attorney papers are better kept accessible for loved ones in the case they need them.
Enjoy Your Retirement in a Community That Cares About You
Life Care Services offers a wide variety of amenities to the residents of our more than 130 communities. Our mission is to ensure that we create a positive and supportive environment for every one of the residents in our communities.
Looking for a vibrant and comfortable community to enjoy your retirement in? Start with Life Care Services and see if we're the community for you. Find your community, today!
Subscribe to Senior Living Communities Insights