What Can You Expect From a Senior Fitness Program?
Jan 31, 2020
It's no secret that staying physically fit is vital to better health and well-being. But for many of us as we get older, it just seems more and more difficult to incorporate exercise into our daily routine.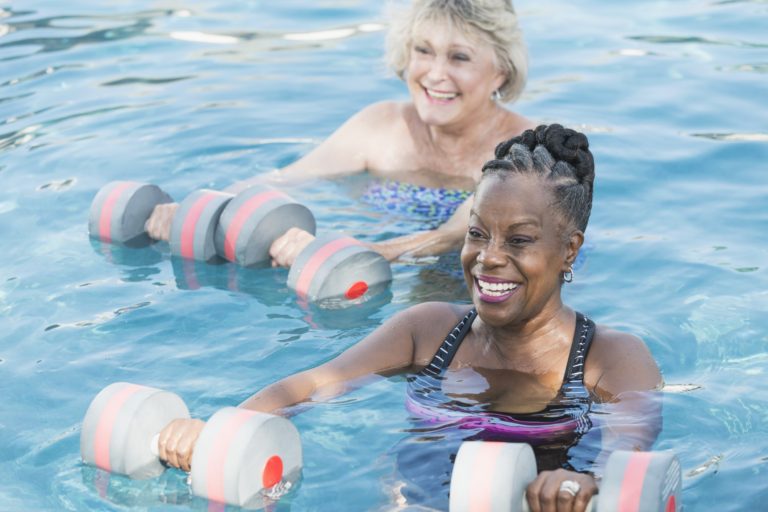 It's no secret that staying physically fit is vital to better health and well-being. But for many of us as we get older, it just seems more and more difficult to incorporate exercise into our daily routine. It might be a busy schedule or chronic pain that makes it a challenge to move freely, or perhaps the thought of joining a gym is too intimidating. According to the Centers for Disease Control and Prevention, by the time we turn 75, about one in three men and one in two women engage in no physical activity.

Decreased Risk of Falls
Exercise helps you build muscle strength and flexibility, which aids you in remaining steady on your feet. A 2016 comprehensive British Journal of Sports Medicine study found that exercise alone reduces the risk of falls in older adults by an average of 21%.
Improved Sleeping Habits
If you have trouble sleeping or suffer from insomnia, being physically active during the day can help you enjoy more restful sleep at night. However, avoid strenuous activity two hours before bedtime, and instead opt to work out in the morning or early afternoon.
Cardiovascular Health
Exercise that gets your heart rate up lowers your risk of heart disease. It can also help keep your blood pressure down.
Emotional Health
Physical activity reduces the symptoms associated with anxiety and depression and can lead to improved moods and increased feelings of well-being.
Healthier Joints
Exercising can help control joint swelling and so can reduce arthritis pain.
Stronger Immune System
People who exercise regularly tend to recover more quickly from injury, illness or surgery. That's because a strong body is better equipped to fight infection and recuperate effectively.
Let's Get Physical
Although you may not do the same types of exercise that you did in your 20s, it's important to stay active in your 60s, 70s and beyond. Exercise doesn't have to be strenuous to be good for you. In fact, moderate amounts of activity, as long as the activity is done regularly (daily if possible) can have significant health benefits.
The senior living communities managed by Life Care Services understand the benefits of senior fitness. Our Lifestyle and Health Services programs encourage a wide range of physical activities and support, and we specialize in adapting senior fitness programs to residents' needs. Here's some of what you can expect when you get active at one of our communities:
Senior Fitness Classes
Exercise programs not only target your physical wellness but also provide social wellness, as they're a great place to meet new friends and visit with old friends. Fitness experts teach classes that promote posture, core and balance. Communities use residents' wellness screenings to track fitness trends and decide which classes to offer.
Fitness Center
Most of the communities we manage have fitness centers with state-of-the-art equipment. Whether you feel like walking on the treadmill or lifting free weights in your spare time, the equipment is right there for you in our fitness center.
Chair Exercises
A number of traditional exercises can be done from a chair. Group classes offer aerobics, volleyball and other heart-pumping exercises — adapted as chair workouts. You won't need to strain yourself to get a good workout. Better still, you'll be doing the exercises with your friends!
Aquatic Exercise
Many of the communities we manage have heated swimming pools, allowing us to offer aquatic exercise programs such as walking, volleyball and aqua fit. Exercising in the water is beneficial for seniors because the buoyancy protects joints and reduces the risk for falls.
Wellness Experts
Wellness experts are the pros who know all the benefits of senior fitness. They teach the classes, do wellness screenings and direct your personal training. They're available whenever the fitness center is open, so they'll be there to guide you through your workout.
Wellness Screenings
Our wellness programs are based on wellness screenings that evaluate your balance, cardiovascular health, strength and more. Using this information, we can offer you suggestions for the best classes and exercises to do. The wellness expert at your community will then update your regimen based on your progress.
Physical Therapy
Partnerships with physical therapists provide access to therapy should you ever have a fall or injury and need assistance to recover. Typically, your final session will take place in the community fitness center so that you can get acclimated to the equipment and continue your progress.
Levels of Care
For each level of resident care, from independent living to memory to skilled nursing, our wellness experts are trained to create fitness programs to suit the abilities of the residents.
Outdoor Activities
Many of the communities we manage offer walking, hiking and biking paths. On nice days, you'll have the pleasure of exploring the paths while you enjoy the fresh air and nature.
At Life Care Services, we prioritize your health and wellness so you can achieve the highest quality of life possible. Contact us today for more information on everything our Lifestyle and Health Services program can do for you. Visit our Find a Community page to locate a community near you.
Subscribe to Senior Living Communities Insights