What to Look for When Researching Senior Living
Nov 19, 2021
Taking care of ourselves can seem like a struggle no matter where we are in age, but as we reach our senior years, there's a point where meeting our daily needs can become a real challenge.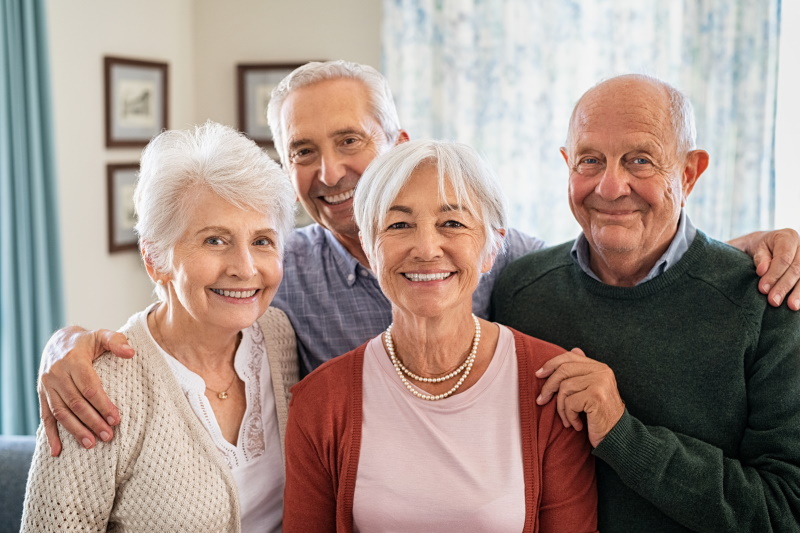 Taking care of ourselves can seem like a struggle no matter where we are in age, but as we reach our senior years, there's a point where meeting our daily needs can become a real challenge. Additionally, many of us are looking for company and companionship as we age and senior living can be a great option to fulfill those desires.
If you find yourself struggling to get through your day to day activities or simply want to make new social connections, it might be time to look into senior living options.
Life Care Services knows how hard it is to find a senior living community that can cater to your individual needs. We've created this helpful guide to assist you with your upcoming life decision.
Choosing the Right Community for You
The first step to take is to assess what level of care you need at this moment. Where are the areas you seem to be struggling? From there, you can search for communities that offer those specific amenities and begin to narrow them down by location.
Once you've narrowed down your options, you get to nitpick.
What to Look For
Scheduling a visit to a community is the best way to get a feeling for how good of a match a community is. There, you'll be able to gauge the atmosphere of the community, how clean the amenities are, and the sense of familiarity between the other residents.
By scheduling a visit for a day you know an activity or event is taking place, you'll be able to experience how the residents interact with each other, and with the employees. This can be a great insight into whether you could see yourself fitting into the community and allow you to line up your needs with the amenities offered. It is important to make sure that the community you choose is going to feel like home to you.
There is more to a senior living community than the physical care they can offer. By doing some introspection on your own lifestyle and interests, you can simplify your research.
Activities and Programs
Consider the hobbies and activities you enjoy in your everyday life. It is important as a senior to keep engaging in the hobbies that have brought you joy in life, or find something new! You want a community where you'll still be able to indulge in your favorite activities and the employees are enthusiastic to help accommodate those interests.
As a part of your research, look for a community calendar. Not only should the programs available peak your interest, they should also meet social, emotional, vocational, physical, environmental, spiritual and intellectual needs. If a community's calendar is looking sparse, that may be your sign to look into other options.
Location
Location can play a big part in how much you enjoy your time in a senior living community. Remember, there is no obligation to stay in the same area you're currently living in. If you have no family living in your vicinity, it may be a smart move to consider finding a community closer to them so you'll have some support.
If you do decide to relocate, there are plenty of options in urban, rural or resort settings. Warmer climates tend to be popular, but four-season states are also great options. A good deciding factor is to focus on the lifestyle you are looking for. The ideal locations for snow-skiing are going to be vastly different than the communities that offer golf year-round.
Cost of Living
Before you can decide on a senior living community, you must do some math. The cost of living varies across the country, so it's important to research the cost of taxes and expenses in your ideal location. By lining those numbers up alongside the fees of your prospective communities, you can give yourself a better idea of what your future expenses will look like.
Balancing your budget can also depend on the cultural offerings of your chosen location. Your expenses are going to be higher in an urban location, with museums and theatres to indulge in, compared to suburban and rural areas. A part of the balance is creating an equilibrium between what you want and what you can afford.
Inclusivity
The most important quality of any senior living community is that it is welcoming. A great indicator that a community will accept you and all of your quirks is when that community is filled with people from all walks of life. If you visit a community and find yourself surrounded by people of all different races, ethnicities, sexualities and genders, then you know that there is a reason all of those people want to be there.
Senior Living Community Types
A senior living community is a great way for seniors to transition into an environment where their individual needs can be met, while retaining as much independence as possible.
Each type of senior living community revolves around the level of care seniors will require day-to-day at a community. Service options include:
Independent Living

Skilled Nursing

Assisted Living

Memory Care
Start Your Research with Us
Life Care Services seeks to provide every senior the comprehensive care that will turn a community into a home. By catering to the individual, we fulfill our mission of enriching residents' experiences in all aspects of community life.
Find a community in your area today!


Subscribe to Senior Living Communities Insights