Will Senior Living Communities Fully Adopt Telehealth Nursing?
Apr 7, 2020
A lot of smart people have been searching for ways to make top-quality medical care more accessible, have lower costs, reduce hospitalizations and ease the strain on the healthcare system.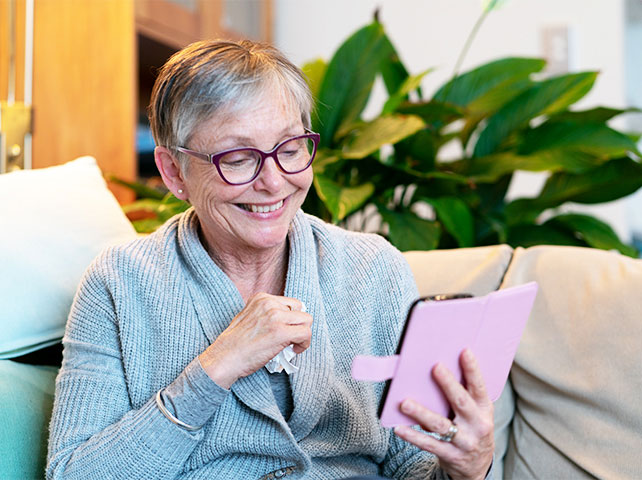 A lot of smart people have been searching for ways to make top-quality medical care more accessible, have lower costs, reduce hospitalizations and ease the strain on the healthcare system. Now, thanks to telehealth, it's virtually possible.
For senior living communities or seniors who are living in their own homes, especially in rural areas, there are many advantages of telehealth nursing for seniors.
What is Telehealth Nursing?
Telehealth is a broad term used to describe the digital communication used by healthcare providers to assess, diagnose and treat patients from a distance.
Telehealth nursing refers to the forms of virtual healthcare provided by nurse practitioners and registered nurses. Doctors can provide services as well.
Types of Telehealth
Telehealth for seniors comes in a variety of shapes and forms. Below are three examples.
Synchronous Telehealth (Live Video Conferencing)
A smartphone, tablet, or computer with a camera and microphone is all you'll need for a doctor's visit. You'll have real-time, two-way communication with a doctor or nurse. Just like a traditional office visit, you can speak directly as they diagnose an illness, manage a long-term issue, walk you through pre-op instructions, or even examine a rash.
Asynchronous Telehealth (Store and Forward)
With this method, there's no real-time interaction. Health data is recorded, stored and forwarded to a healthcare provider to review through a secure platform similar to email. Your doctor or nurse can share medical information with you or other specialists and vice-versa.
Remote Patient Monitoring (Mobile Health or mHealth)
This usually requires a worn device with sensors that measure vitals, such as blood pressure, heart rate, or blood glucose levels. The data is wirelessly transmitted to your healthcare provider or a caregiver.
What Are The Advantages of Telehealth Nursing?
Telehealth use among seniors is growing at a rapid pace, and overall, it has the potential for making healthcare more affordable, convenient, and self-directed. According to a 2019 White Paper from FAIR Health, national use of telehealth services grew 53% from 2016 to 2017.
As with any new technology, there are pros and cons to telehealth nursing. Let's first take a look at the positives.
Better Access to High-Quality Care
For senior living communities or patients in rural areas, telehealth nursing improves patient care by breaking down the physical barriers to reach them 24/7.
Manage Chronic Conditions Better
For chronic illnesses such as diabetes or CPOD, remote patient monitoring can lead to more regular contact between patient and nurse. That leads to better management of care.
Reduces Risks
With telehealth nursing, patients avoid the risk of infection from other patients when visiting a doctor's office or hospital. And because they communicate from home, they avoid the risk of having an accident while traveling, especially during bad weather conditions.
Saves Time
Patients receive on-the-spot care via video chat, instead of waiting for their next appointment, wasting time traveling, or sitting in a waiting room.
Saves Money
Regence Health Plans reports that consumers save an average of $100 per visit when using telehealth instead of in-person office, urgent care, or emergency room visits. The cost savings are associated with medical claims, mileage and wait times in traffic and the waiting room.
Reduces Trips to the Hospital
Giving a senior living community the ability to connect to a doctor, nurse or specialist in real-time can eliminate the need for transport to the hospital. Studies have shown that approximately 60 to 70 percent of all nursing home transfers to the hospital are unnecessary. Also, many senior living facilities don't have a doctor onsite 24/7 so telehealth has become a vital option.
Convenience
When a common or less acute medical issue happens on weekends, holidays or other times when the doctor's office is closed, there's no need to wait to schedule an appointment. Telehealth nursing care help is just a click away.
Keeps Caregivers Connected
Telehealth for seniors empowers long-distance caregivers to take an active role in their loved one's care. By being able to sit in on video conferences with healthcare providers, they can stay in the loop and ask the important questions. They can even monitor their loved one's health conditions from afar through remote patient monitoring. Telehealth brings peace of mind to both the caregiver and their loved one.
What Are the Disadvantages?
As with anything else, there are some cons to telehealth nursing. Let's look at a few.
Sometimes Facetime Matters
It's hard for a nurse or doctor to run their fingers along your ribcage to check for a break over a smartphone. That also goes for swabbing your throat to check for strep or listening to your lungs or heart. Telehealth is not meant for every patient or every visit.
Barriers to Access
Many seniors living in rural areas don't have access to reliable broadband connections. At the same time, many haven't embraced technology and don't have the essential components for telenursing, like a smartphone, tablet or computer.
The Cost To Doctors
Having to buy new electronic equipment such as tablets and kiosks has discouraged some senior living communities and healthcare providers from participating in this burgeoning technology.
The Cost to You
While one of the goals is to make healthcare more affordable, prices vary and there may be hidden costs involved. Before using a telehealth service, always check to see if there's a convenience fee. Also, telehealth services may not be covered by your insurance.
Tricky Policies and Reimbursement Rules
In this rapidly growing industry, healthcare laws, reimbursement protocols, and privacy protection rules have struggled to keep up. Major developments have been made to telehealth reimbursement payments over the past few years, but it can still be a common roadblock for providers.
What's In Store For the Future?
As with any new game-changing technology, improvements are constantly being made, and the drawbacks become less and less every year. For senior living communities and the public in general, the rapidly growing acceptance for telemedicine is opening new doors to more affordable, timely and efficient high-quality healthcare.
As new technologies are developed, you can expect to see telehealth use among seniors and senior living communities to become much more prominent. To learn more about the exceptional healthcare services we provide, find an LCS community near you.
Subscribe to Senior Living Communities Insights